Davisville, 3/18/13: Asteroids, climate change, and Davis with Tom Cahill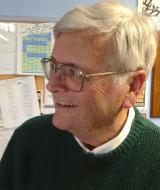 In his latest book, retired UC Davis physics/atmospheric science professor Tom Cahill imagines an asteroid slamming into the Earth. He has it strike far from Davis, but the distance doesn't matter—Davis is wiped out (by a huge flood) anyway, as is most of the world in an ensuing ice age. This sets the stage for a tale about climate change, and how survivors adapt.
Today we discuss "Ark: Asteroid Impact," plus some of Cahill's other interesting work studying the threat of airborne particles from the 9/11 annihilation of the World Trade Center—he's a national expert on the subject—and from railroads and freeways. Turns out that Davis, bisected by Interstate 80 and a Union Pacific railroad mainline, is lucky to be located where the routes are largely straight and flat.
Davisville, 3/4/13: Live music in Davis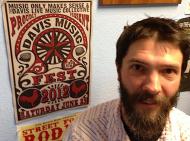 This show discusses live music in Davis, including the possibility of adding a permanent venue downtown, with Kyle Monhollen of the Davis Live Music Collective. 
Davisville, 2/18/13: The 'other Davis' with the Vanguard's David Greenwald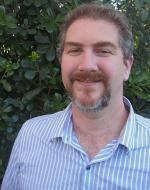 At the end of 2012, Davis Vanguard owner David Greenwald wrote and posted an essay about "the other Davis," or the aspects of our town not necessarily reflected in Davis' college-educated, affluent image. On today's Davisville we talk about what he means, as well as the nearly 7-year-old Vanguard itself, which he says has about 6,000 core readers and took in about $50,000 last year.
Lee and Frerichs, part 2: Davisville, 2/4/13
This is the second halfof an interview with Davis' newest City Council members, Lucas Frerichs and Brett Lee, who took office last summer. Find part 1 at http://www.kdrt.org/node/11291.
Davisville, Jan. 21: Impressions from their first six months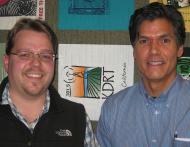 Davis voters elected Lucas Frerichs, left, and Brett Lee to the City Council in mid-2012. On the current Davisville they discuss what they've learned and observed from their first six months, on subjects including the pace of change, the upcoming water rates election, and downtown retail. The interview appears in two halves: part one airs Jan. 21-Feb. 2, and part two (now available at http://www.kdrt.org/node/11443) will air Feb. 4-Feb. 17.
This journalist helped convict a Davis killer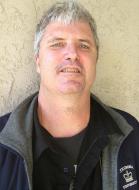 Joel Davis is a hometown Davis journalist whose book "Justice Waits: The UC Davis Sweetheart Murders" played a key role in solving the 1980 Davis kidnapping and murder of "two stellar kids," UC Davis students John Riggins and Sabrina Gonsalves. In December 2012, 32 years to the month after the slayings, a Sacramento Superior Court jury convicted Richard Hirschfield of first-degree murder for killing Gonsalves and Riggins, who were both 18.
Joel appears on Davisville today to talk about the resolution of the case, which is, in a sense, the resolution of his book. He discusses the verdict, and why it took a third of a century to identify and convict the killer. He also discusses Parkinson's, which struck him while he was writing "Justice Waits"—and led him to write a powerful first-person account of his resulting brain surgery, "The heart of the (gray) matter," for the Sacramento News and Review.
Meet Doug Hatton, one of Davis' Santas
Today's year-end program has one guest and two subjects: Tales from a man who portrays Santa Claus in Davis, plus some of his memories of Davis through the years. Both are fit subjects for late December, when the year-end holidays, and the changes that accompany the turn of the year, are front and center. My guest Doug Hatton talks about what he sees as one of the town's Santas—he has played the character in hundreds of appearances for thousands of local kids—and how Davis has changed since he moved here at 13. His local roots go deeper than that, though. For example, his mom was Miss Davis of 1939.
UC Davis greenhouse expert Garry Pearson reports back from Iraq
Twice this year, Garry Pearson has gone to Iraq as part of a program to help Iraqis grow more vegetables. He oversees about 160 research greenhouses at UC Davis, and an ag project recruited him as a technical expert. On today's Davisville he talks about what he saw. Pearson wanted to "see what's going on [after the U.S. war] ... It's my own natural curiosity. I know I have technical skills that can be passed on to different people, if it's presented in the right way. On the ground my experience was just meeting the people everyday, the day-to-day folks. I got the opportunities to be out and to mix."
He spent his time in Kurdistan, the less-violent northern part of the country, working with Kurds, Shias and Sunnis. Pearson describes both tension and reasons to hope—hotel guards with AK-47s, and a lively democracy. A few years ago he went to Bosnia-Herzegovina. Afghanistan is probably next. "Davis," he says near the end of the show, "needs to get out and see the rest of the world."
Davis school funding cuts end, but there's no long-term fix yet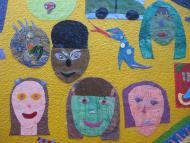 The financial picture for Davis schools looks better than it has in years … and yet that doesn't mean the recent era of cuts is history. Too much remains undecided, including the impact of the fiscal cliff if Washington can't resolve the nation's tax-and-spending dispute in the next few weeks; the recovery of the California economy; upward pressure on wages and other costs; and the fact that Measure E and Proposition 30, which put a floor under the school budget this fall, will expire in several years, unless extended. In today's Davisville we discuss all this with Jeff Hudson, education writer for the Davis Enterprise. Other topics: the post-election mood among educators he talks with, technology at the schools, class sizes, salaries for teachers, and the evolving impact of the No Child Left Behind law on transfers and, yes, on funding. We end with a quick list of three major issues facing Davis schools in 2013.
'Hobbit,' year-end films, and great projections in Davis theaters
Davis film critic Derrick Bang returns to Davisville this week to talk about some of the big December movies, including The Hobbit debuting Dec. 14, and Quentin Tarentino's Django Unchained "southern," which opens on Christmas. We also take up related questions about movies, such as the continuing slump in ticket sales. He blames the degraded experience of going out to a movie, including the pre-show commercials and mediocre presentation—but says the three Davis theaters do a consistently good job in sound and projection. Maybe that's a selling point for a city banking on arts and entertainment as a major draw for downtown. We also get Bang's take on the best, and worst, holiday movies through the years. His list of the best is thin on recent titles, compared to his list of the worst. A reason, he says, might be Hollywood's fear these days of seeming corny or sentimental.
Pages