Live Friday 4-5pm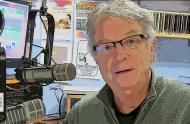 Listening Lyrics, a one hour show airing Fridays at 4:00PM. The show centers around a theme and plays music to contribute to the theme or a local artist is interviewed to hear their music and/or listen to music that might have inspired them. Do not let the name fool you, this show is all about music. Listening Lyrics plays the tunes that have creative and outstanding lyrics. Mostly in the jazz and singer/songwriter genre. The show is hosted by Pieter Pastoor who as a poet has a good ear for meaningful lyrics, Pieter's co-host is Jeanne Pastoor who is known to ask those insightful questions that keeps this show in fine tune mode.
Pieter Pastoor
Podcast
Listening Lyrics for 4pm on May 17th, 2013
This is a repeat show from March 29, 2013. The show features songs from my "special Folder" selections. No Guest but wow - what a mix of music.
Listening Lyrics for 4pm on May 10th, 2013
Truly a remarkable and mesmerizing hour with Michael and his ability to verbally paint a story.
 Michael Ellis was first acknowledged as a poet when he was 17.He was published twice before he reached 19. He was immediately compared to Harlem Renaissance poet, Langston Hughes, a measure he neither embraced or denied. Stil his ability to write in Southern dialect at a young age quickly garnered attention from the University of Puget Sound where he pursued English and Journalism.
Listening Lyrics for 4pm on May 3rd, 2013
Talk about a special guest. Thats what we had on Friday 5/3/13 at 4:00PM. A singer supreme, a poet in the awesome category and an organizer extraordinaire (a la Davis flea market) that is Lauren Cole Norton. Just read some of the reviews-  "On time and timeless," "mesmerizing", and "the beginning of something great" have all appeared in reviews of Lauren Cole Norton's music. Gesturing to her comfort in styles as diverse as country and jazz, folk and classical, Music Connection Magazine described Norton's voice as "by turns, sincere and flirtatious"; the songwriting "sophisticated and modern." She is a recipient of the Jack Kerouac Prize for Poetry, the UC Davis Dean's Prize for Artwork and Performance, and was named an Over the Edge New Writer of the Year, 2011. Her first album, "What Ails You" was released in 2012 and was recorded at the famed Hangar Studio in Sacramento.
Visit Lauren at https://www.facebook.com/lnnorton
Listening Lyrics for 4pm on Apr 26th, 2013
Chris Clark was our call in guest this week. We will be playing tracks from his new CD "CEDAR WISELY"
Jazz runs through the veins of this musician, which really shows when he is playing a saxaphone or behind a piano. Chris grew up in Davis, developing his talent in Davis High. he went on to earn his B.M. in Jazz Studies from the University of Oregon and his M.M. in Jazz and Improvisational Music from the University of Nevada, Reno. Currently he resides in Boston and performs on the east coast. Listen in for an in depth interview along with playing a few tracks from his CD and some music that has influenced him.
Chris can be followed on his web site http://cclarkmusic.com , Chris records for the Songlines Label http://www.songlines.com
Listening Lyrics for 4pm on Apr 19th, 2013
BOSTON.
Todays show was going to feature Chris Clark, a musician from Boston. With all that is happening in Boston today Chris and I both felt today was not the time to focus on his new CD.
Instead LISTENING LYRICS reflects on the tragedy with the help of lyrics and music.
Listening Lyrics for 4pm on Apr 12th, 2013
This is a repeat of the 2/15/13 show with Marque Cass
Listening Lyrics for 4pm on Apr 5th, 2013
On this week's show we will hear from and interview Phillip Larrea. Besides hearing some of his poetry we will also expose his humor and maybe even an idea or two about getting rich.
Phillip Larrea was born and raised in Sacramento,  After a brief stint in Seattle, he moved to New York, because that's where they keep the money. He is a wealth advisor and syndicated business columnist with Examiner.com. In 2012 his poems have appeared locally in Medusa's Kitchen and Sacramento Poetry Art and Music (SPAM), as well as nationally in Nostrovia To Writing, The Artistic Muse, and internationally inThe Poetry Bus Magazine and Outburst Magazine. Phillip is the author of two Spoken Word CDs, "Loose Change" and "Scrapbook".
Phillip also has a new poetry collection from Cold River Press called "We the People" to be released  on April 5, 2013. And a chapbook from Writing Knights Press called, Our Patch.
http://www.coldriverpress.org/HTML/the%20people.htm
http://writingknightspress.blogspot.com/2013/01/our-patch-by-phillip-larrea.html
Listening Lyrics for 4pm on Mar 29th, 2013
This show features my "special song" folder selections. No guest this week but wow - what a mix of music
Listening Lyrics for 4pm on Mar 22nd, 2013
This week ( March 22 at 4:00PM) we will have the pleasure of having Tim and Ruby of Ruby and the Emeralds live in the studio.
Their sound is an integration of Ruby's Tex-Mex upbringing and musical heritage and Tim's deep folk, folk-rock and rock & roll influences. 
Many of Tim's tunes were composed in Mexico and weave Spanish language elements into verses and choruses, expertly interpreted by Ruby's native tongue. Their songs have a decidedly "Americana" acoustic instrumentation while reaching out towards a "world music" orientation in their use of percussion, horns and cultural touches.
Listening Lyrics for 4pm on Mar 15th, 2013
Local singer/songwriter, Steve Kotarek, shares his talents in the studio. Steve performed three songs in the studio, see playlist for details.
Pages