Live Friday 4-5pm
Replays Tuesday 12-1pm, Saturday 4-5pm
Listening Lyrics, a one hour show airing Fridays at 4:00PM. (replays Saturdays 4:00PM and Tuesdaysat 12:00PM)The show centers around a theme and plays music to contribute to the theme or a local artist is interviewed to hear their music and/or listen to music that might have inspired them. Do not let the name fool you, this show is all about music. Listening Lyrics plays the tunes that have creative and outstanding lyrics. Mostly in the jazz and singer/songwriter genre. The show is hosted by Pieter Pastoor who as a poet has a good ear for meaningful lyrics, Pieter's co-host is Jeanne Pastoor who is known to ask those insightful questions that keeps this show in fine tune mode.
Pieter Pastoor
Podcast
Listening Lyrics Mar 7th, 2014 guests THE SMOKE SHOVELERS
This is one of those FUN shows - great music and great banter. Listen in, listen now for this special hour.  Acoustic duo The Smoke Shovelers have spent a few years now sneaking around the periphery of the Davis/Sacto circuit entertaining friends and family at barbecues, honey-extracting parties, coffee-roasting sessions, campfire jams, film-festivals, back-patio birthdays, front-porch hoe-downs, New Year's celebrations, and every once in a while planting themselves in front of microphones for a paying audience in more traditional musical venues. Davis music veterans Roger Kunkel (Thin White Rope, Acme Rocket Quartet) on mandolin, guitar, banjo, and fiddle, and Rusi Gustafson (Curbfeelers, Acme Rocket Quartet) on guitar, banjitar, and harmonica, lend their two-part harmonies to both original tunes and an up-ended grab-bag of folk, bluegrass, and country-rock covers ranging from The Statler Brothers and John Prine to The Replacements and The Velvet Underground.
Listening Lyrics Feb 28th, 2014 with MOTHER FALCON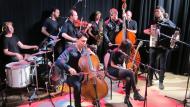 Listen in as we talk and hear this one eclectric group of fine musicians. Mother Falcon began as a jam session among a group of high school cellists eager to break out of the classical repertoire that predominated their musical training. Since then, the band has evolved as an organic collective of classically trained young musicians determined to push their artistry into new musical territory.
Receiving as many accolades for their intimate chamber performances as for their electrifying club shows, Mother Falcon has crafted a signature soundscape by blending rock, jazz and hip hop rhythms with swirling horns and strings that alternately lead and support equally inventive vocal arrangements. In addition to violins, cellos, saxophones, and trumpet, the band includes piano, accordion, banjo, and bassoon.
Mother Falcon has worked with composers Jherek Bischoff, Graham Reynolds, and Peter Stopschinski, and has performed collaboratively with Amanda Palmer, Raul Midon, Tony Trischka, Ben Sollee, Kelli Scarr, Gary Lucas, and Christopher Cross, among others.
Listening Lyrics Feb 21st, 2014 Guest Joaquin Feliciano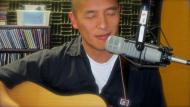 Singer songwriter Joaquin Feliciano's performances burst with energy, humor, emotion, and wisdom. As a child, Joaquin studied piano, voice, music theory, and composition. However, the only strong feeling he remembers from that time was: "Please, do NOT let me screw this up!" It took over four decades of living for him to appreciate fully the gift his parents gave him and come to an understanding of music, and especially live performance, as conduits for healing, transformation, and personal growth. Drawing inspiration from local artists like Jackie Carroll and Mike Justis, he bought a guitar, learned some chords, started singing, and pretty much hasn't stopped since. Augmented by his engaging storytelling and his spare acoustic guitar style, Joaquin's original and cover songs include early and contemporary folk and cowboy music, love songs, and leaving songs that speak about the sorrow, joy, pain, absurdity, and learning that accompany life's major and minor transitions. As he describes it: "perfect music for a contemplative Saturday afternoon…at your psychotherapist's office." Along with local guitarist and piano tuner Michael Musial, Joaquin recently took over co-hosting the monthly open mic night at RootStock in Winters, CA - http://www.rootstockgifts.com/Pages/default.aspx They are both enjoying giving back to the community by providing a venue for musicians and performers of all types to meet and share their art with each other.
So listen in for the whole hour - now on KDRT
A short clip of Joaquin in the studio on youtube here  http://www.youtube.com/watch?v=T6-4AdQH_L4&feature=youtu.be
Listening Lyrics Feb 14th, 2014, the VINYL show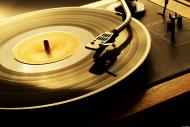 What a surprise - my guest this week had to cancel. So an opportunity presented itself. This created the vinyl show. The past few months I have found some sweet vinyl LP records that are just itching to be spun. We started of with the SACRED MUSHROOM, a Cincinnati group in the false60's. Blues mixed with the Grateful Dead was their awesome sound. 
But listen up - this is one eclectic hour. So TUNE in.
Listening Lyrics Feb 7th, 2014 with Stelth Ulvang of THE LUMINEERS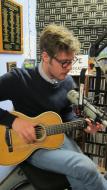 An interview with STELTH ULVANG.  With Stelth and also performing was Abe Abraham.  Stelth is the keyboard guy in The Lumineers, but wait, he also does vocals, plays the guitar, saxaphone, flute and much more. So find out what makes this multi talented individual tick. Stelth did a week of small west coast shows to bring (in an intimate setting) selection of songs that he is writing for a new CD.
or visit Stelth on his facebook page - https://www.facebook.com/StelthUlvang
Listening Lyrics Jan 31st, 2014 with CROW CANYON
Listening Lyrics ended January with a real kick -
 CROW CANYON.
 A rock band filled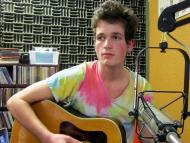 with talent, enthusiasm and charisma. This show was a blast, not only the music but also the banter.
The trio plays original song at venues and events around California.
Crow Canyon
 is a rock trio from Davis, California that plays a set comprised of catchy original songs, and a variety of different covers by bands such as the Arctic Monkeys and Sublime. 
Crow Canyon
 is: 
Riley Donahue
 (Guitar/Vocals)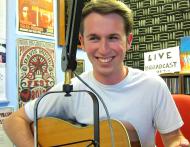 Drew Thomsen
 (Drums)
Nathan Puckett
 (Bass/Vocals)
Listening Lyrics Jan 24th, 2014 with The WELLS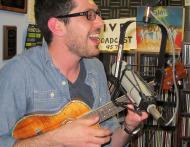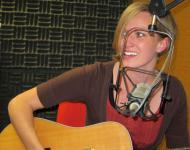 Two Great talents share their love of music this hour. LISTEN NOW
We are Wells
, the singer-songwriter duo of
Aaron Matthew
and
Kathryn Grace
.
Aaron is originally from southern California, plays guitar, piano, bass, drums and ukulele, and released his first full-length album in early 2013. He secretly and inexplicably loves writing and listening to country music. 
Kathryn is a Montana native and is married with a newborn daughter. She plays the guitar and piano and recorded her debut album in Nashville in 2009.
Wells is a singer-songwriter duo with a passion to write and release songs from the depths of who we are, where our Living Water resides. The name "Wells" was chosen as a tribute to the fact that we are all deep, deep wells of creativity and life, and the deeper we dig, the more there is to find and release.
Visit the WELLS at www.facebook.com/wearewells
Listening Lyrics Jan 17th, 2014 with Bart van der Zeeuw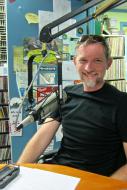 Bart van der Zeeuw discusses his love of music and shares some of his favorite tunes. A lifelong musician (drums and percussion) who has the experience of traveling the world in a rock group or adding his delicate touch to an intimate jazz trio that is BART. This was a VERY eclectic hour of song and discussion.
Listening Lyrics Jan 10th, 2014 with RICHIE LAWRENCE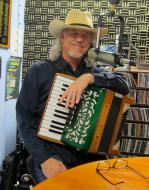 Explore the sounds of Richie Lawrence on his new CD "WATER" This interview is a one on one with one great songwriter, musician, vocalist and a great guy sharing his new CD "WATER" with us.  The songs Richie Lawrence has written for Water are deceptively simple, composed of rippling melodies full of shadow and light, lyrics brimming with poetry and plainspoken truth and an invitation to join in a dance of love, laughter and compassion. Their complexity delights with the first listen, slowly unfolding to reveal an unexpected intensity of color and flavor as they linger on the emotional palette.
Listening Lyrics Dec 27th, 2013 with Moonlit Wheat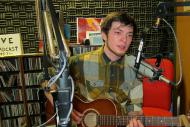 A very talented, up-and-coming singer/songwriter was in the studio to introduce his new CD. Listening Lyrics was thrilled to spend an hour with Colin Wagner, his guitar, and his voice.
Moonlit Wheat
 was born in a cinderblock cell of a dorm room when Colin found himself fascinated enough with the warm glow of early Mountain Goats records streaming through his computer that he devoted himself to pursuing the captivating witchcraft of songwriting.
After learning the basics of guitar on his old high school bandmate's debatably functional guitar, Colin grew and honed his songwriting abilities shrouded in the confusion, self-consciousness, and reverent conviction in the ethereal that he had so wholesomely fostered within himself.
The music of Moonlit Wheat has been praised for its haunting emotional intensity and vivid lyrical imagery. Capturing moments and feelings where the basic and universal meet with the romantic and colorful is the core of the project's sound. Visit Moonlit Wheat at www.moonlitwheat.com
Pages